French King Bridge Lore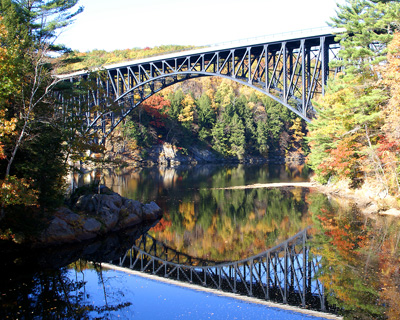 The French King Resaurant and Motel gets its name from the French King Rock, so called by French officers reconnoitering the area during the French and Indian War.
North of the 139 foot high French King Bridge, also named for the French King rock, lies a large stone outcrop in the middle of the river.
Historical records say that, in 1674, a French and Indian Expedition, enroute to attack the colonists in nearby Deerfield, made camp on the western bank of the river to avoid running the rapids at nightfall.
The conspicuous rock seen from the banks of the river became a fixed landmark in the French commander's report. In a ceremony of dedication, an altar fire was started on the rock and sprinkled with river water. The stone was christened "French King Rock" in honor of King Louis XIV of France.
Before the construction of the Turners Falls dam, the rock stood 16 feet above the water. Today only a small portion is visible, but it has withstood the elements, icefloes, and logjams over the years and can be seen during periods of low water.